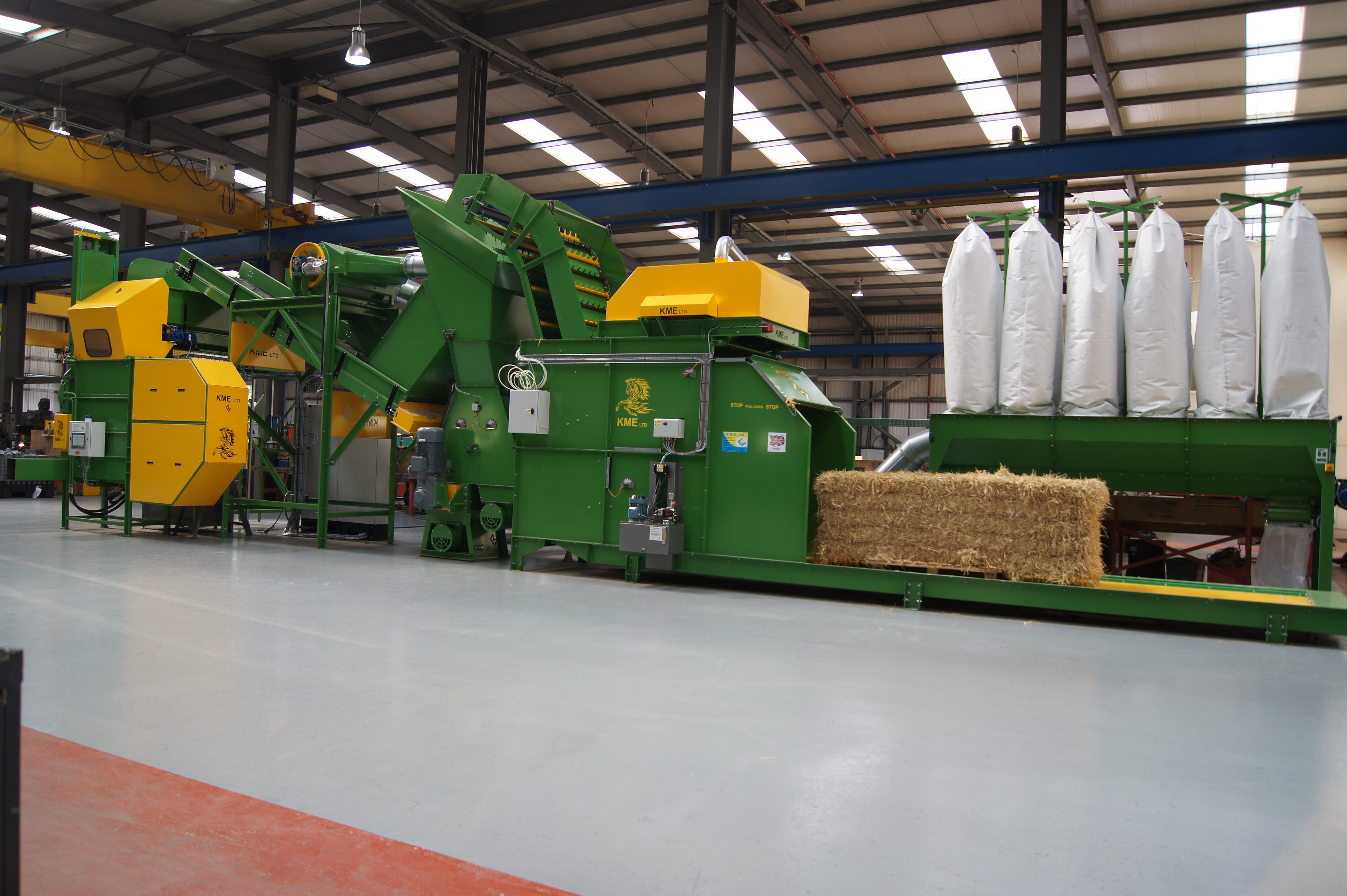 Hay, Haylage & Straw Bedding Process
The perfect system for any serious forage or bedding producer, KME are the market leaders in this type of machinery and have developed the range over 20 years of interactions with farmers. Each system is designed & built to suit the producers individual requirements from end product packaging size to dust extraction & machinery layout. Our industry leading machinery is design to break up large bale haylage, hay or straw product and repackage into smaller airtight 20kg sealed backs.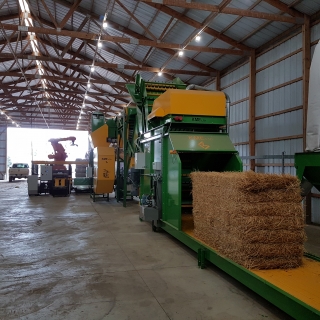 Features
Full system with walking floor & bale breaker for square or round bales

Diverter hopper to process different materials, dictating the route to bagging press

Shredder for straw with throughput upto 2.5TPH Product dependant.

Delivery drum for dust removal

100-180 packs per hour, 20-30kg bale weights dependant on product

Double seal heat sealing unit

Compatible with robot stacking system for accurately packed pallets

System can be finished with form fill and seal option for a fully auto line.
HAYLAGE
Initially there would be a walking floor to feed the straw / haylage large square bales (without wrap and string) up through the breaking system opening the material suitable for on feed. The haylage material would fall directly onto the feeding conveyor and into the weigh conveyor and at a pre-set weight of approx. 20 kg would feed the material direct into the baling machine and bag the material direct into a plastic bag. The bag would then be sealed manually.
SHREDDED STRAW BEDDING (ANIMAL BEDDING)
When processing straw the material would be diverted away from the feed conveyor and feed directly into the shredding system. The pneumatic conveying and de-dusting system would suck / convey the shredded material from the shredder and directly through the delivery drum (De-Dusting' unit and onto the weigh conveyor. Once a weight of approx. 12 – 14kg has been achieved the weigh conveyor would feed the straw bedding direct into the bagging machine for compaction directly into the plastic bag which would then be manually sealed. This produces a perfect clean straw bedding for many different types of animals.
HAY (DE-DUSTED)
If you required to process hay without shredding but de-dusting the machine would work similar to the above description for the straw but the material would divert past the shredding unit, through the de-dusting system and feed into the weigh conveyor. The material would be packed though the packing machine in the same way as above direct into the bag at a weight of approx. 10 -12 kg. The material would be whole un-chopped and would have the dust removed.
Benefits
Ability to process multiple product types with one system

Dust removal removes >95% of dust and mould spores for a cleaner product

British designed and built machine to suit each customer.

increase margin by using branded bags

Neat compact handleable bales for resale

High quality end product with long shelf life

Maximise your income

Air sealed 20 kg bags, easy to handle and transport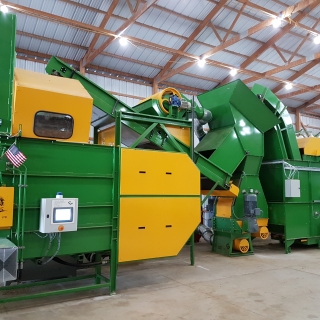 Video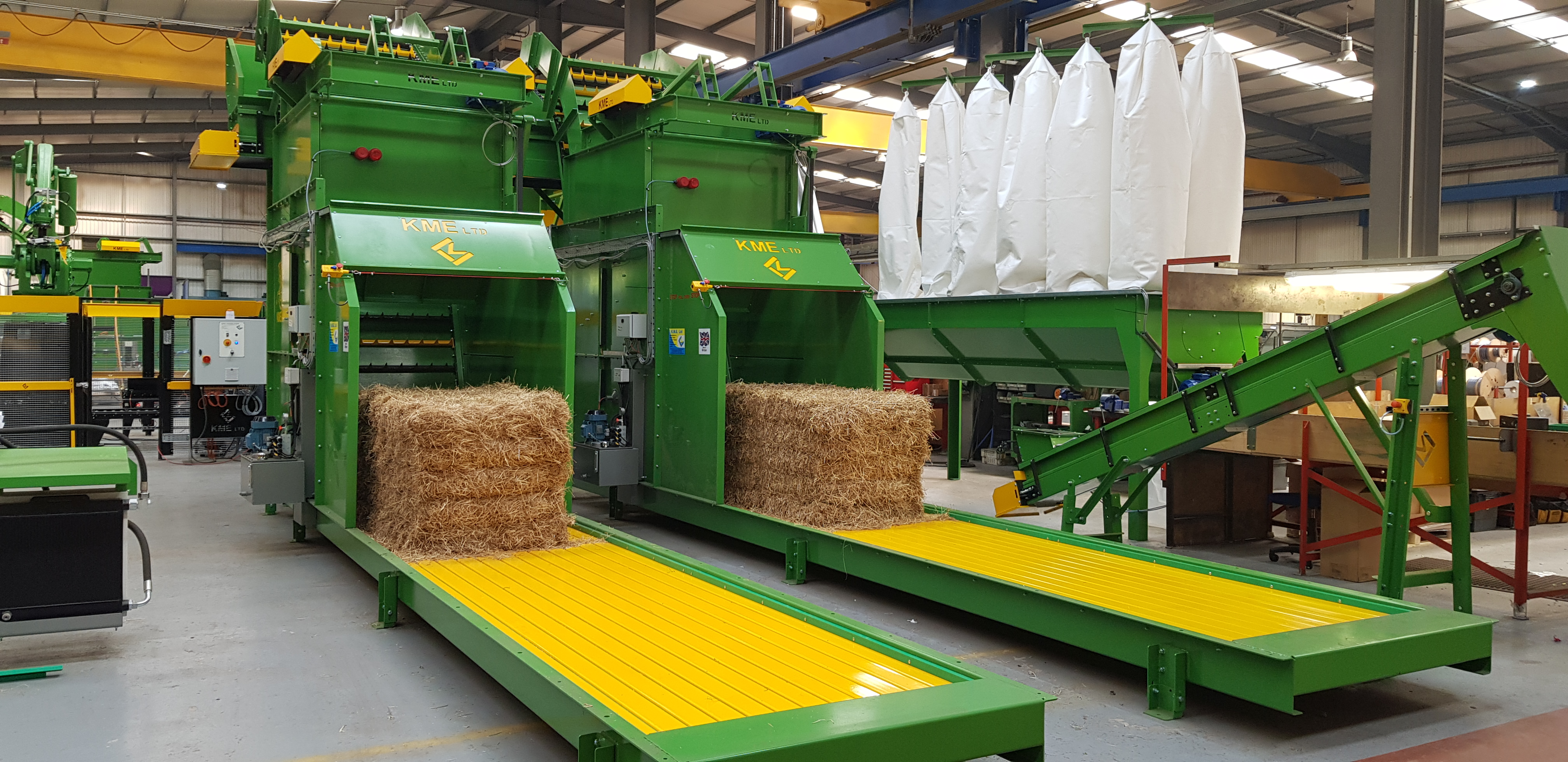 Manufacturing Excellence
From initial design of your requirements through to the final installation of your machines KME Ltd will walk you through each step to make sure that we create your master piece. We offer full service and support after installation a helping hand all the way.

Proven Quality
KME Ltd have an impressive portfolio of both clients and products with worldwide influence. We pride ourselves on being able to provide industry leading machinery that outlasts our competitors and stands the test of time.

Professional Team
With a full team of inhouse design engineers with over 50 years experience we can create tailor made solutions for any recycling or agricultural facility, the sky is the limit and if we can create it you can have it!

Heritage & Experience
Established in 1980 KME Ltd have been manufacturing and supplying to the recycling industry for over 40 years offering full turnkey installation from Initial Concept & design,manufacture and installation