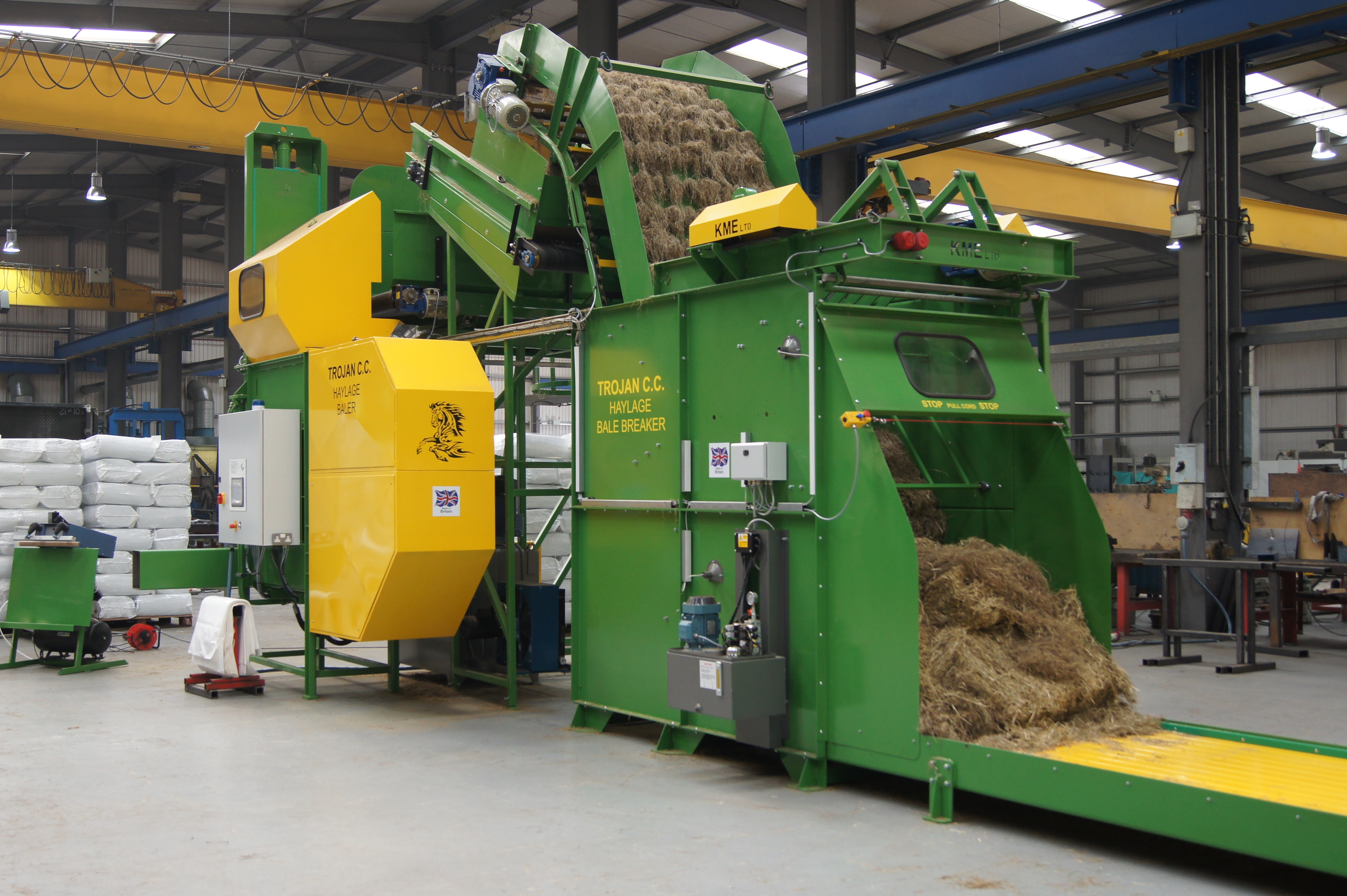 Haylage Baler / Packing System
KME Ltds industry leading machinery for rebaling large round or square bales of haylage. This system can be used for rebaling and packing hay and straw but doesnt come with dust extraction as standard.

Process Description Haylage / Baleage Baler :-
The large square / round bale haylage would be initially placed onto the walking floor and the wrapping and ties removed from the bales. The walking floor is capable of holding up to 4 off large bales. (this may vary depending on the size of bales used)

The material would then feed into the bale breaking system where a spiked conveyor and a special 'Doffing' system would thin the material out suitable for weighing.

The material feeds onto the weigh conveyor where the system automatically weighs out approx. 20 kg of the loose material.

Once the weight is achieved the weigh conveyor automatically feeds the weighed material direct into the packing unit.

The packing unit compresses the material down into the finished sizes pack direct into a plastic bag with nominal measurements of 600 x 400 x 220mm.

The bag is then manually sealed using a special twin seal heat sealing unit

The system is capable of being operated by one person @ a rate of approx. 80 packs per hour, With two operators the capacity of the system is up to approx. 100 x 20 kg packs per hour.

Haylage Breaking system.
To break-up large bales of Haylage, Baleage, Straw and Hay

Initially there would be a walking floor system to place the bales. The bales would be placed on walking floor which would be capable of holding up to 6 bales

High accuracy Weigh Conveyor mounted next to the bagging machine.
Once weight has been achieved the weighed material would be fed direct into the baling unit

Weighing unit is independent of the baling / bagging machine to increase the accuracy of the finished bale weight. NOTE:- Other manufacturers have the weigh scale internal with the baling machine which does not provide the level of accuracy we can offer.

High accuracy weighing unit which is calibrated to 0.1kg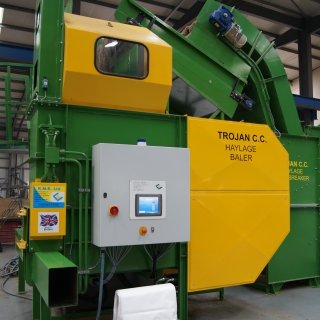 Features
Bale size approx.:- 600 x 400 x 220mm This may vary slightly depending on the material and the size and specification of beg being used.

Bale weight:- From 20kg, depending on the type of material being packed and the model size chosen.

All internal contact surfaces are manufactured from stainless steel to prevent rusting of the internal surfaces.

walking floor which would be capable of holding up to 6 bales.

High accuracy weighing unit which is calibrated to 0.1kg

We utilise a high efficiency hydraulic power unit which allows us to reduce the running kw cost per bale, approx. 50% of other manufacturers.
Here is a good link to why making haylage / baleage is a good option click here
Best practices for making Click here
Benefits
Produces high quality airtight final product

Production rate:- Up to approx. 180 bales per hour. This may vary depending on the moisture content of the material, nominally the moisture content should be around 35%.

Can rebale indoors out of the rain at own leisure - bale in the field in large bales for speed

System can be tailor made to each clients requirements

Generate a higher revenue per bale

Easy bales to handle

Convert 1 large bale to 15-20 bags, up to 180/hr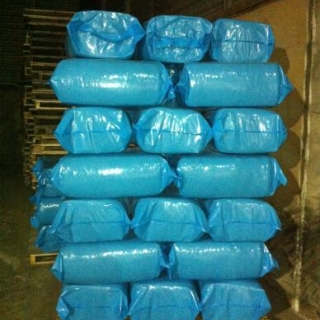 Video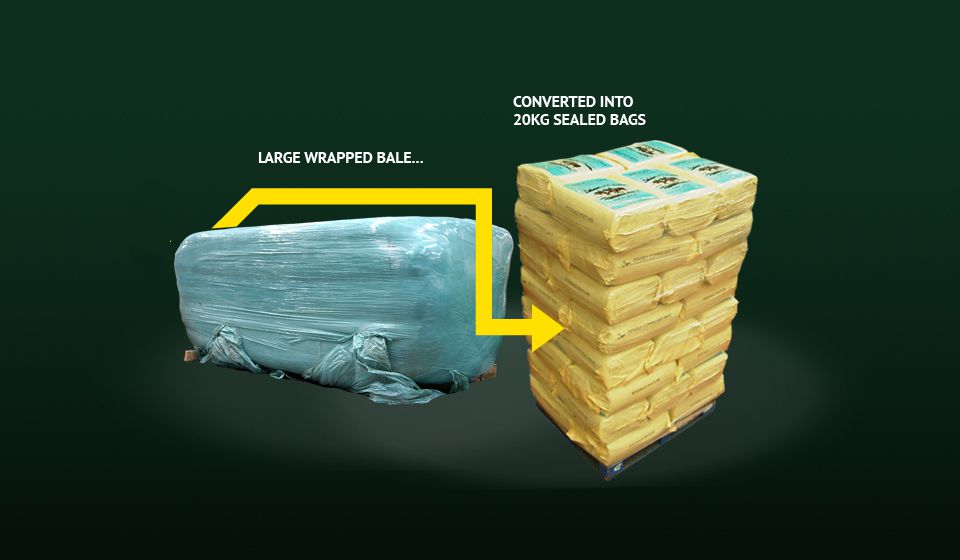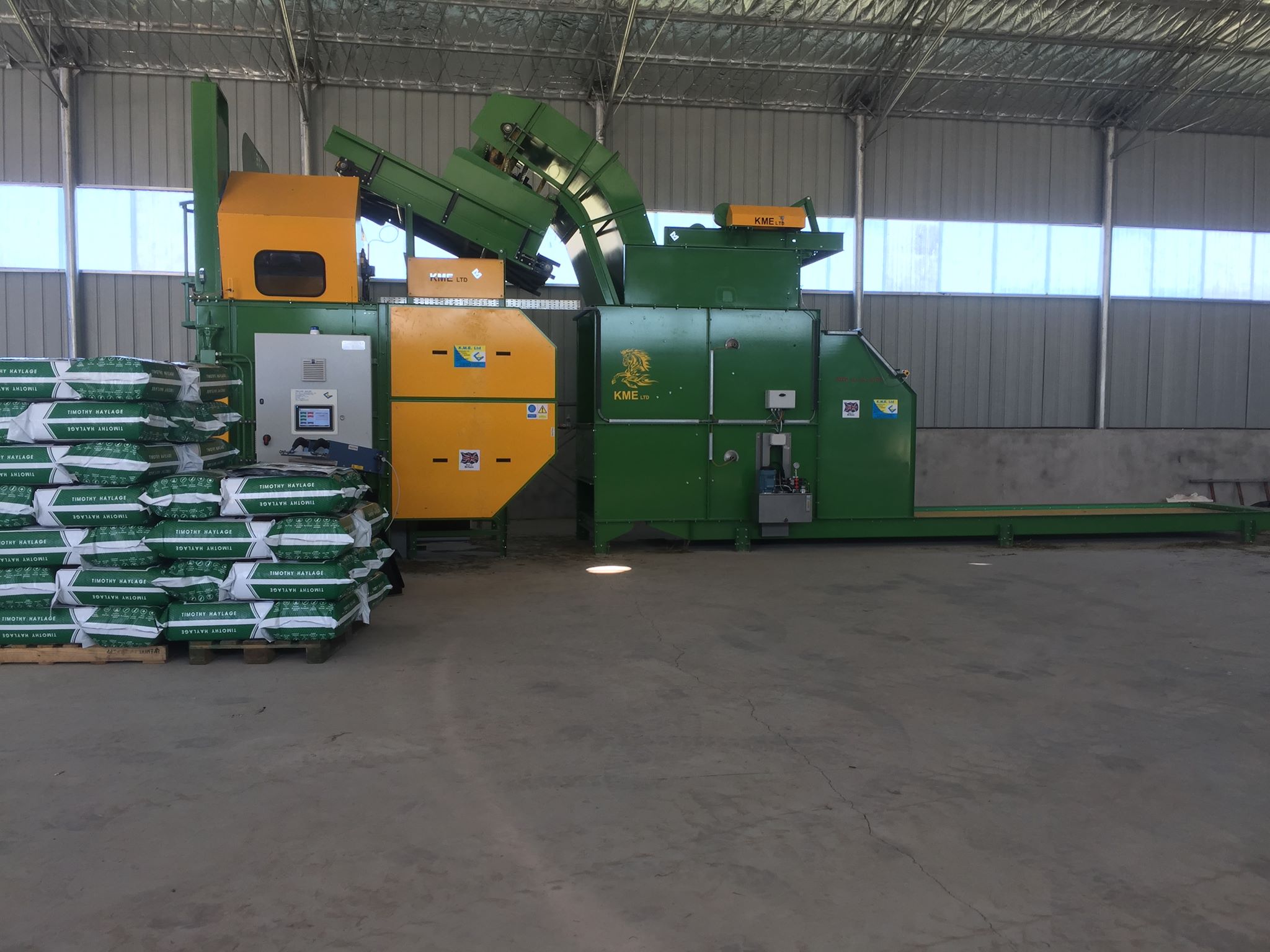 Manufacturing Excellence
From initial design of your requirements through to the final installation of your machines KME Ltd will walk you through each step to make sure that we create your master piece. We offer full service and support after installation a helping hand all the way.

Proven Quality
KME Ltd have an impressive portfolio of both clients and products with worldwide influence. We pride ourselves on being able to provide industry leading machinery that outlasts our competitors and stands the test of time.

Professional Team
With a full team of inhouse design engineers with over 50 years experience we can create tailor made solutions for any recycling or agricultural facility, the sky is the limit and if we can create it you can have it!

Heritage & Experience
Established in 1980 KME Ltd have been manufacturing and supplying to the recycling industry for over 40 years offering full turnkey installation from Initial Concept & design,manufacture and installation