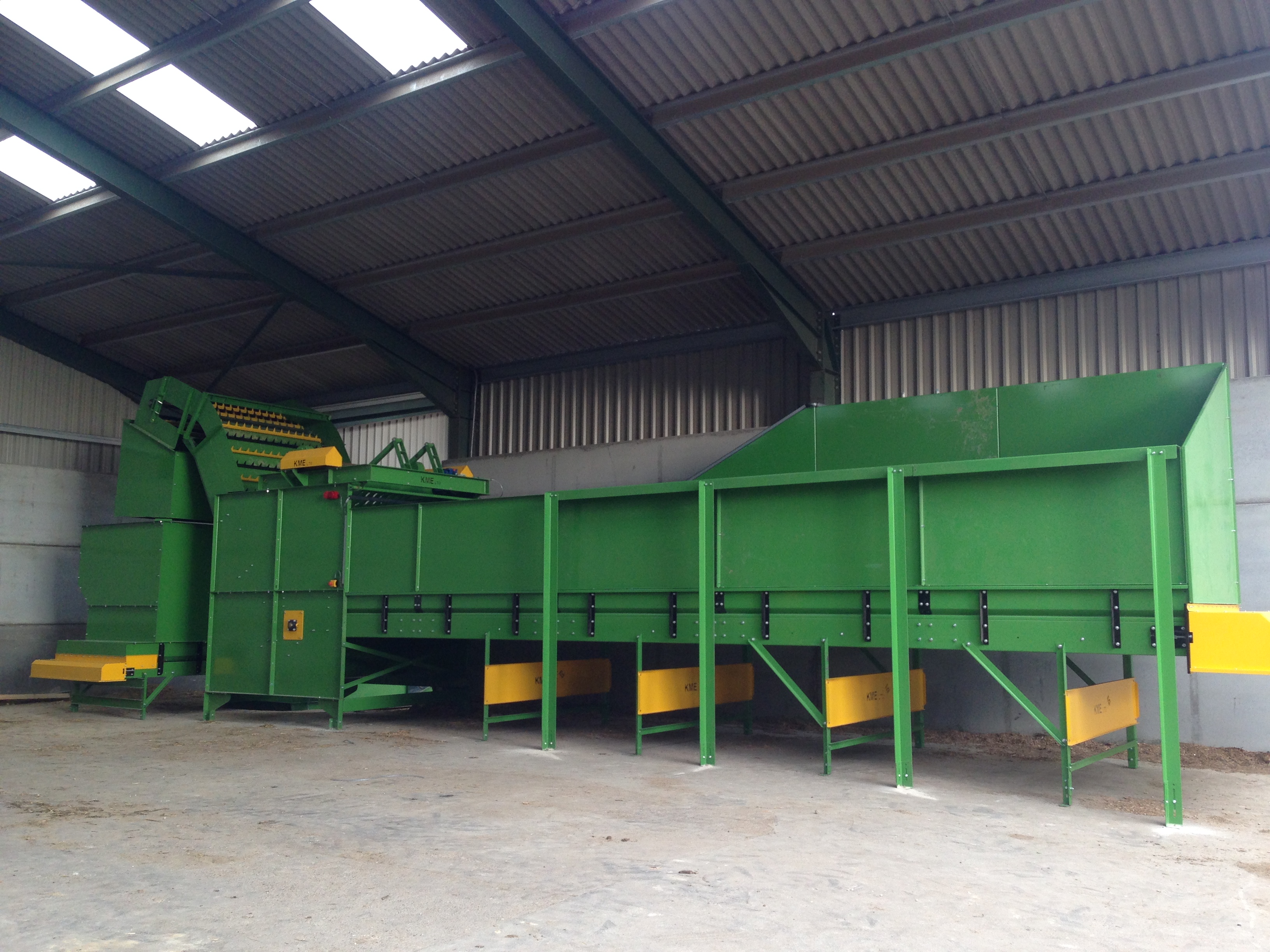 Bale Breaker
The bale breaker is designed to break up large bales of haylage, straw and hay. Large bales of Haylage, Hay & Straw type materials are placed onto the walking floor where the material is fed into the chain driven bale breaking system. The material is opened up and fed at an even rate into further processing machinery. This may include for example a shredder for producing straw bedding, a weigh conveyor for Haylage, Hay etc. for packaging into small bales. Further down the process may include de-dusting system, bagging press etc.
Additional KME equipment that can be used in conjunction with the above Bale Breaker :-
Straw Shredder for producing animal bedding

De-dusting system for the straw and hay type products

Haylage baler for 20kg bales

Weighing conveyor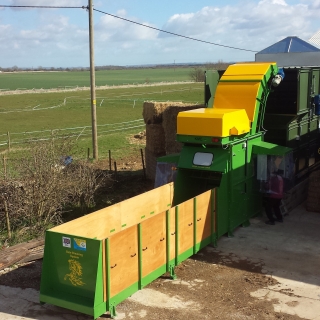 Features
Doffer unit to thin out feed of product

Walking floor suitable to load 3 bales for feeding the spiked belt

Can be modified to feed existing baler units

The spiked conveyor is controlled by a Variable speed drive allowing greater product control
The bale breaker works in conjunction with other KME machinery to ensure a complete system for the processing of Haylage, Straw and Hay type products, the bale breaker once loaded with the large bales will open the material automatically. The unit is fully adjustable for the speed / capacity of the product and also how 'thinned' out the material is leaving the system.
The bale breaker can also be used for pulling apart other fiberous products and implemented into other agricultural and none agricultural solutions. The KME bale breaker has been used for varying projects across the globe :
Biomass - feeding waste agricultural material to silos and digestors
Textiles - breaking bales of textiles, removing metal contaminants
Cardboard - pulling apart bales of cardboard for reprocessing
Flowers - successfully tested on teasing apart long stemmed flowers for petal removal
Benefits
Can feed our bagging press and produce 20kg bales/bags of product

Bale large bales for speed – less labour required for bringing in small bales from the field

Can break many types of product – hay, haylage, straw, long stemmed flowers, wood wool, alfalfa, pine straw, hemp etc

Breaks large round or square bales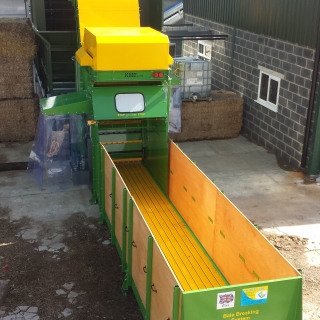 Video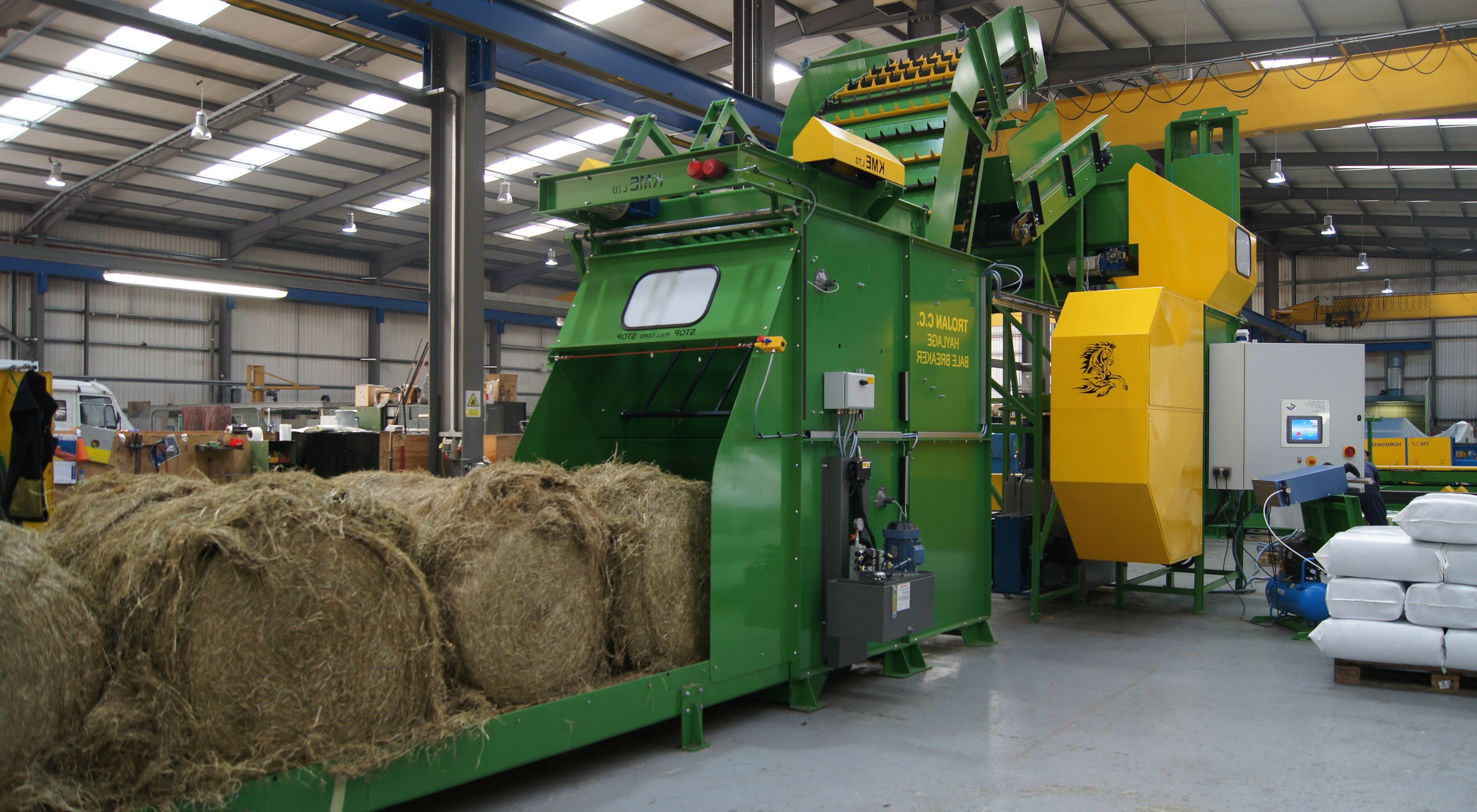 Manufacturing Excellence
From initial design of your requirements through to the final installation of your machines KME Ltd will walk you through each step to make sure that we create your master piece. We offer full service and support after installation a helping hand all the way.

Proven Quality
KME Ltd have an impressive portfolio of both clients and products with worldwide influence. We pride ourselves on being able to provide industry leading machinery that outlasts our competitors and stands the test of time.

Professional Team
With a full team of inhouse design engineers with over 50 years experience we can create tailor made solutions for any recycling or agricultural facility, the sky is the limit and if we can create it you can have it!

Heritage & Experience
Established in 1980 KME Ltd have been manufacturing and supplying to the recycling industry for over 40 years offering full turnkey installation from Initial Concept & design,manufacture and installation
More Information
Yes, the bale breaker can be adjusted to fit an existing baling setup. We have a team of in house designers who can modify the system to fit your requirements.
We have customers running our rebaling systems worldwide, we are happy to ship and install to any country.
Our systems have been designed for the forage and bedding sector but we have installed many into other facilities processing different products : hay, haylage, straw, textiles, pine straw, leather trimmings, biomass fuel, petals/confetti, corn silage,chopped alfalfa, paper pulp etc