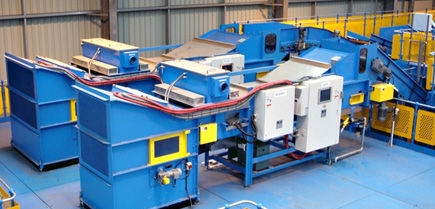 Fibre Sort & Sapphire optical Sorting Conveyor
MSS, a division of the CP Group, is leading the industry in state-of-the-art optical sorting systems. The optical sorting systems by MSS are field-proven to give you the most ecient and effective automated separation for paper, plastic, metals, glass, wood, e-Waste, and more. MSS designs and manufactures the highest quality and fastest optical sorters, which are custom-designed to meet the specific needs of your system. MSS optical sorters can be easily integrated into any existing system.
Optical Sorting In High Definition
Advanced optical sorting systems from MSS are field-proven to give you the most efficient separation of recyclables available, while providing you with the cost-effective, time-saving technology you need to meet current market demands and take your operation into the future. Designed, engineered and manufactured in-house, MSS systems are the high-speed automated answer to your sorting requirements. Regardless of your plant size or specific need, you can depend on more than 30 years of MSS experience to engineer a cutting edge solution that is custom designed to increase your productivity – and profits – automatically.
MSS optical sorting equipment is also serviced and maintained in the UK By Ken Mills engineering and CPME based in the outskirts Manchester.

Manufacturing Excellence
From initial design of your requirements through to the final installation of your machines KME Ltd will walk you through each step to make sure that we create your master piece. We offer full service and support after installation a helping hand all the way.

Proven Quality
KME Ltd have an impressive portfolio of both clients and products with worldwide influence. We pride ourselves on being able to provide industry leading machinery that outlasts our competitors and stands the test of time.

Professional Team
With a full team of inhouse design engineers with over 50 years experience we can create tailor made solutions for any recycling or agricultural facility, the sky is the limit and if we can create it you can have it!

Heritage & Experience
Established in 1980 KME Ltd have been manufacturing and supplying to the recycling industry for over 40 years offering full turnkey installation from Initial Concept & design,manufacture and installation