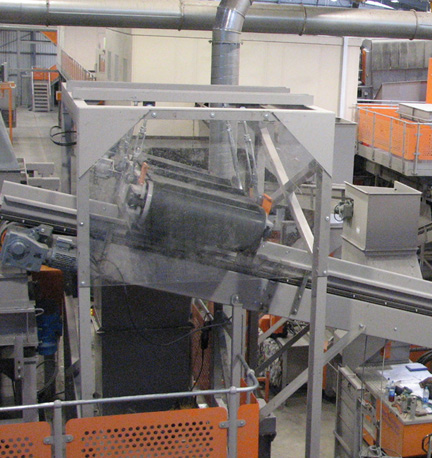 Electro Magnetic Separator
KME offers an over-belt Electro Magnetic Separator that allows for quick and efficient separation and recovery of your ferrous material. Positioned over the stainless steel section in your conveyor, ferrous material is attracted to the electro-magnet above and is taken away by the conveyor belt running at a cross-angle allowing for transfer to storage container\transfer belt or direct feed to a baler.
Available in both electro and permanent magnet styles, these powerful, self-cleaning separators come equipped with a tough, vulcanized rubber belt with cleats to continuously remove steel from the stream. The magnet may be suspended either cross-belt (perpendicular to the product flow) or inline (parallel) above the product flow.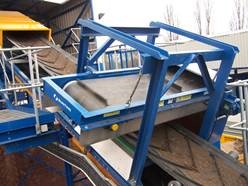 Features
Continuously removes ferrous materials

Self-cleaning belt reduces maintenance

Can be positioned either cross-belt or in-line

Various sizes to suit individual applications

Various drive sizes

60mm high rubber cleats

Manufacturing Excellence
From initial design of your requirements through to the final installation of your machines KME Ltd will walk you through each step to make sure that we create your master piece. We offer full service and support after installation a helping hand all the way.

Proven Quality
KME Ltd have an impressive portfolio of both clients and products with worldwide influence. We pride ourselves on being able to provide industry leading machinery that outlasts our competitors and stands the test of time.

Professional Team
With a full team of inhouse design engineers with over 50 years experience we can create tailor made solutions for any recycling or agricultural facility, the sky is the limit and if we can create it you can have it!

Heritage & Experience
Established in 1980 KME Ltd have been manufacturing and supplying to the recycling industry for over 40 years offering full turnkey installation from Initial Concept & design,manufacture and installation